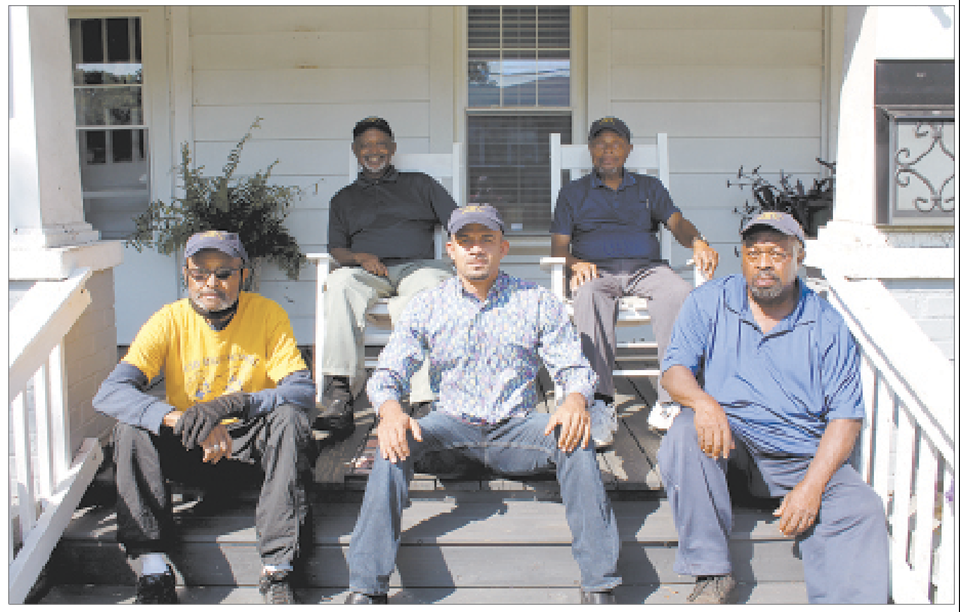 Belmont's CJB Reid House celebrates 100 years
By Alan Hodge
alan@cfmedia.info
One of Belmont's most historically significant structures has been hiding in plain sight at 301 Sacco St. for 100 years.
The Professor Charles Jesse Bynum Reid House dates to 1920 and was his residence during his time as a professor and principal at Reid High School which was located right next door. The property  where the school was is now occupied by a City of Belmont park.
On September 20, Reid relatives, friends, and Reid community citizenry gathered at the house for a special program recognizing its significance not only to the local African-American neighborhood, but to the region as well.
The event included music, remarks by keynote speakers, and prayer. A raffle was also held and the prize went to Gianni Rodriguez, a charter member of the Reid Junior Rams group.
The Reid Junior Rams has about ten members at the current time. Members range in age from five to eighteen years old.
Charles Jesse Bynum Reid Foundation, Inc. president/CEO Charles Reid described the group's mission.
"We want to teach them the heritage and legacy of Reid High," he said. "We want to inspire them to excel in whatever they want to do."
Tours of the house were also part of the day.
According to Abriel Reid, the house looks pretty much like it did when Professor Reid and his brother Craig built it.
"He was living in Lowell at the time and rode a bicycle here every day to work on it," Abriel said.
Inside, the house is a treasure trove of Reid family and school memorabilia including yearbooks, photos, awards, a letter from Barack Obama, and the original keys to the school. There's also an original school desk. Upstairs, bedrooms are furnished in old time style and dedicated to civil rights leaders Harriet Tubman, Martin Luther King, Jr., and Frederick Douglas. A large poster also pays tribute to the Tuckaseegee Airmen, WWII pilots.
Charles Reid recalled how the house and grounds looked when he was growing up.
"I remember the chicken coop and a big cherry tree," he said. "There was a fig tree too."
Charles says a cow was once a resident and an antique butter churn found under the house backs that legend up.
The house today is kept in good repair and it's obviously loved by everyone on Sacco St. and the surrounding neighborhood. Charles Reid stays there sometimes and keeps an eye on things. The lawn is tidy and the front porch has several inviting rocking chairs. It's easy to imagine the days when Professor Reid might have sat on the porch and thought deep thoughts.
The Charles Jesse Bynum Reid Foundation, Inc. is a 501C3  non-profit organization. Grants are going to be applied for to improve the house and make it more museum-like. For now, anyone interested in taking a tour of this fascinating and informative Reid community icon or taking part in the Junior Reid program can contact Charles Reid at 704-825-4017 and make arrangements. Online at
www.cjbreidfoundation.org
or
www.facebook.com/cjbrfoundation
.
About CJB Reid 1879-1940
He was a 1908 graduate of Knoxville College and the founding principal of the "colored school of Belmont" (later Reid High) in 1918. His wife, Maude Henderson Reid, was a graduate of Johnson C. Smith University and taught at several Gaston County schools.
In addition to being an educator, Professor Reid was also a civic activist. His involvements included Gaston Schoolmasters Club, Gaston Welfare Board, Governor's Interracial Commission, State Teachers' Association, Trustee for the Gastonia Colored Hospital, Masonic member, he and his wife were among the co-founding  members of Hood Memorial AME Zion Church in Belmont, and many more.